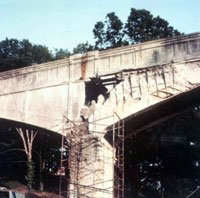 Before Repairs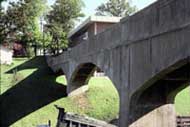 After Repairs
CUMBERLAND COLLEGE
Pedestrian Bridge Repairs
---
Built in 1908, a pedestrian bridge located on the campus of Cumberland College in Williamsburg, Kentucky was in need of major restoration. In 1981 the bridge was dilapidated, showing signs of severe concrete deterioration. Parts of the original reinforcing steel needed replacement and sections of the deck and pier had disintegrated. There was a gaping hole in the side of one wall ñ large enough in which a man could stand. The college was anxious to return the bridge to its original form, appearance and function.

IPA Systems, Inc. was pleased to accept the challenge of supplying the repair products to restore this college landmark in 1981. After a high pressure water cleaning, the loose and deteriorated concrete was chipped out. The rebar was replaced, and all surfaces were treated with DURIPAL. The missing section of the wall, the deck and the piers which were formed and poured using shear connectors, were replaced with IPANEX Concrete.

IPANOL LV Epoxy Injection Resin was used to repair the cracked parapets, and IPANOL Anchor GEL was applied to anchor the new rebar.

OCTOCRETE was used for patching the parapets, beams and skirts, and transverse stiffeners under the deck between the beams. OCTOCRETE was used because of its superior ease of placement on vertical sides and the undersides of structures.

Finally, DRYCON was applied as the final coating on the surfaces of the bridge as the college wanted to maintain the appearance of an old bridge in good condition.
PRODUCTS USED:
---
For more
information please
call IPA Systems, Inc.
at 800.523.3834 or
215.425.6607
or email us at:
info@ipasystems.com