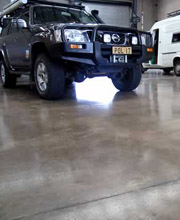 Sealed concrete parking area
DURIPAL
---
Penetrating Surface Hardener & Conditioner
DESCRIPTION: DURIPAL is a clear, odorless, inorganic liquid polymer that hardens and densifies both fresh and aged concrete.
USES: DURIPAL chemically cures, seals, hardens, and dustproofs interior, exterior, vertical or horizontal concrete substrates. Chemically hardens and densifies dusty concrete surfaces when dusting is caused by osmotic effect resulting in unhydrated cement.
ADVANTAGES:
Made in America
Improves hardness and abrasion resistance to concrete
Reduces and minimizes efflorescence
Dustproofs concrete surfaces
Economical and easy to apply
PACKAGING AND YIELD:
Packaging: Available in 1 gallon (3.79 L), 5 gallon (18.93 L) and 55 gallon (208.18 L) containers.
Yield: Hard Troweled Finish: 400 - 600 sq ft / gal 9.8 - 14.7 sq m/ L
Broom or Float Finish: 300 - 400 sq ft / gal 7.4 - 9.8 sq m/ L
Rough Slab Finish: 200 - 300 sq ft / gal 4.9 - 7.4 sq m/ L
Vertical Substrates: 400 - 500 sq ft / gal 9.8 - 12 sq m/ L
LIMITATIONS:

Minimum material, surface and ambient temperature must be 40°F (7°C) and rising
Do not apply to a frozen surface or allow material to freeze
Test application should be performed on all substrates before full application.
Avoid contact with glass, brick or aluminum
Keep traffic off floor 4-8 hrs after application.

CAUTION – FOR INDUSTRIAL USE ONLY:
Product is highly alkaline. If contact with eyes or skin occurs, flush immediately with copious amounts of water and contact a physician. If swallowed, induce vomiting and CONTACT A PHYSICIAN IMMEDIATELY. Avoid direct contact where possible and wash exposed skin areas promptly with water. Consult MSDS for additional safety information.
Downloads

For more
information please
call IPA Systems, Inc.
at 800.523.3834 or
215.425.6607
or email us at:
info@ipasystems.com