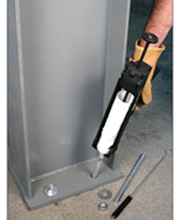 Ipanol Anchor Gel
IPANOL Anchor Gel
---
General Purpose, Non-Sag, Injectable Anchoring Gel
DESCRIPTION:
IPANOL Anchor Gel is a solvent free, 100% solids, two component, moisture insensitive, high modulus, structural anchoring gel. It's non-abrasive consistency provides a smooth paste adhesive that is excellent for pumps or automated pressure injection equipment.
USES:
IPANOL Anchor Gel is ideal for mechanically grouting dowels, pins and bolts. Other applications include: Cap sealing and port setting. Grouting of large cracks as well as pressure injection. Bonding irregular surfaces and as a pick proof sealant.
ADVANTAGES:
Made in America
Moisture insensitive before, during and after cure.
Freeze thaw resistant.
Easy to mix: 1:1 mixing ratio
Low odor.
Suitable for use in wet or damp holes.
Fast setting and strength-producing adhesive
Ideal for close to the edge and shallow applications
For use in solid and hollow masonry
PACKAGING AND YIELD:
Packing: 8.45 oz ( 250 ml) single cartridges, with nozzles and extension: 12 per case. 20 fl. oz (600ml) dual cartridge with nozzles: 12 per case
Coverage:
SHELF LIFE: Two years in unopened containers. Store in a cool dry place out of direct sunlight. Keep from freezing. Store material at 40° - 95° (5° - 35°C) Precondition material to 73°F (23°C) before using. For 70F°(21°C) and lower temperatures, condition cartridges slowly from 65°F to 85°F(18° to 30°C) for easier gunning.
LIMITATIONS:
Minimum material, surface and ambient temperature must be 45°F and rising
Minimum age of concrete must be 3 to 7 days, depending on curing and drying conditions
Do not thin; solvents will prevent proper cure.
Do not allow mixed epoxy to reside in static mixing head or mixer for more than 5 minutes or gelation and blockage may result.
Ipanol Anchoring Gel is a vapor barrier after cure.
CAUTION – FOR INDUSTRIAL USE ONLY:
Component A – Irritant
Component B – Corrosive

Product is a strong sensitizer. Use of safety goggles and chemical resistant gloves are recommended. Use of a NIOSH/MSHA organic vapor respirator recommended if ventilation is inadequate. Avoid breathing vapors. Avoid skin contact.

FIRST AID
EYE CONTACT: Flush immediately with water for at least 15 minutes.
Contact physician immediately.
RESPIRATORY PROBLEMS: Remove person to fresh air.
SKIN CONTACT: remove any contaminated clothing. Remove epoxy immediately with a dry cloth or paper towel. Solvents should not be used as they carry the irritant into the skin. Wash skin thoroughly with soap and water.
CURED EPOXY RESINS ARE INNOCUOUS. Refer to MSDS for more information.
Downloads

For more
information please
call IPA Systems, Inc.
at 800.523.3834 or
215.425.6607
or email us at:
info@ipasystems.com