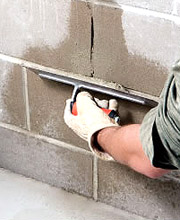 Waterproofing block wall with
IPA's Drycon
DRYCON
---
Cementitious Crystalline Waterproofing Kit
DESCRIPTION: Drycon is a prepackaged, chemically active cementitious composition designed to protect masonry or concrete from water induced chemical attack, and to stop the passage of water through the material. A two coat application of Drycon is suitable for most interior below grade waterproofing applications. Two coats of Drycon will withstand hydrostatic pressures up to 7 psi (16 ft. of water, 4.9 m), while three coats provide protection to 45 psi (103.8 ft, 31.6 m).
USES: Drycon is used to prevent seepage of water through masonry/concrete under pressure.
ADVANTAGES:
Made in America
Double waterproofing protection by chemically sealing the internal structure of the masonryor concrete as well as sealing the surface with a dense, watertight cement coating.
Chemically interacts beneath the surface to neutralize salts that cause efflorescence.
Comes in Gray or White
PACKAGING AND YIELD:
Drycon is packaged in 50 lb. (22.7 kg) bags as a kit, and includes a plastic pint (0.5 L) container of IPA Systems' Ipanex complex alkaline earth silicate admixture.
LIMITATIONS:
Minimum material, surface and ambient temperature must be 40°F (4.4°C) and rising
Do not apply to frozen substrates.
Will not bridge cracks greater than 1/16" inch (1.6mm).
Material cannot be installed on surfaces that are actively seeping water. Contact IPA's Technical department is water seepage is present.

CAUTION – FOR INDUSTRIAL USE ONLY:
Freshly mixed cement, mortar, grout, or concrete may cause minor skin irritation. Avoid direct contact where possible and wash exposed skin areas promptly with water. Consult MSDS for additional safety information.
Downloads


Drycon Liquid
Material Safety Data Sheet


Drycon Powder
Material Safety Data Sheet
For more
information please
call IPA Systems, Inc.
at 800.523.3834 or
215.425.6607
or email us at:
info@ipasystems.com