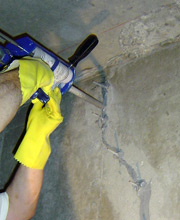 IPANOL LV Injection Resin
IPANOL LV
---
100% Solid Epoxy, High Modulus, Low Viscosity Injection Resin
DESCRIPTION: IPANOL LV is a solvent-free, moisture insensitive, low viscosity, high strength, two component injection resin. It meets ASTM-C-881 Types I, II, IV & V, Grade 1, Classes B & C. It also meets USDA specifications for use in food processing areas. An excellent epoxy adhesive for use in crack grouting by pressure injection or gravity-feed and for making structural epoxy mortars and grouts.
USES: IPANOL LV is used for pressure-injection of cracks in structural concrete, masonry, wood, etc. It can be gravity feed into cracks on horizontal concrete or masonry. Combine the resin with selected aggregates to make a structural mortar.
ADVANTAGES:
Made in America
Structurally restores integrity of concrete
Low Viscosity
Moisture insensitive
PACKAGING AND YIELD:
Packing: 150ml x 300ml cartridges, 3 gal/11.4L units, 15 gal /56.8L units
Coverage: 1 gal/3.8 L of mixed epoxy yields 231 cu in /.0037 cu m of epoxy.
1 gal/3.8 L of mixed epoxy combined with 5 gal/18.9L of aggregate yields 808.5 cu in / .013 cu m of mortar.
SHELF LIFE: One year in original unopened container. Storage Conditions: Store at 40°- 95°F (5°- 35°C) - protect from freezing

LIMITATIONS:
Minimum material, surface and ambient temperature must be 40°F and rising
Minimum age of harden concrete for bonding should be 28 days.
Do not thin with solvents
Material needs to be preconditioned to 65°F before application.
Do not seal slabs on grade. Ipanol LV is a vapor barrier in this application.
Maximum epoxy mortar thickness is 1.5" / 3.8 cm per lift.
CAUTION – FOR INDUSTRIAL USE ONLY:
Component A – Irritant • Component B – Corrosive • Product is a strong sensitizer. Use of safety goggles and chemical resistant gloves are recommended. • Use of a NIOSH/MSHA organic vapor respirator is recommended if ventilation is inadequate. • Avoid breathing vapors. • Avoid skin contact. First Aid: EYE CONTACT: Flush immediately with water for at least 15 minutes. Contact physician immediately. RESPIRATORY CONTACT: Remove person to fresh air. SKIN CONTACT: Remove any contaminated clothing. Remove epoxy immediately with a dry cloth or paper towel. Solvents should not be used as they carry the irritant into the skin. Wash skin thoroughly with soap and water. CURED EPOXY RESINS ARE INNOCUOUS. Refer to MSDS for more information
Downloads

For more
information please
call IPA Systems, Inc.
at 800.523.3834 or
215.425.6607
or email us at:
info@ipasystems.com