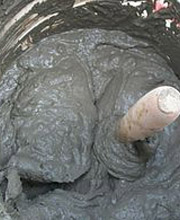 IPANEX RAPID Setting Mortar Admix
IPANEX RAPID
---
Admixture to Produce Rapid Setting Mortar
DESCRIPTION: IPANEX RAPID is a liquid admixture which when mixed with portland cement becomes an extremely rapid setting plastic material used to stop pressure leaks in concrete and masonry structures.
USES: IPANEX-RAPID can be used to stop water leaks in dams, foundation walls, manholes,pipelines, underground structures, swimming pools, fountains, tunnels, basement walls and floors.
ADVANTAGES:
Made in America
Will stop water under pressure
Economical
Sets within 30 to 50 seconds, generates minimal heat when setting
Becomes extremely plastic when combined with portland cement
PACKAGING AND YIELD:
Packing: Available in cases of four 1-gallon (3.8 L) containers or in 5-gallon (18.9 L) plastic pails. IPANEX RAPID liquid must be stored at temperatures above freezing.
Coverage: 1 quart of IPANEX RAPID plus portland cement = approx. 80 cubic inches plug
LIMITATIONS: Judgment must be used to mix IPANEX RAPID in small quantities due to the extremely rapid set. After the portland cement is added to the liquid IPANEX RAPID, the mixed compound will set in approximately 30 seconds. This action allows the material to bond mechanically and chemically to saturated surfaces. A delay in setting, if required, can be attained by adding fine sand to the neat cement mixture or by reducing the amount of cement added to the liquid.
CAUTION – FOR INDUSTRIAL USE ONLY:
In accordance with federal regulations, do not apply unless Material Safety Data Sheet (MSDS) is available on-site. Consult MSDS before using this product. Product is highly alkaline. If contact with eyes or skin occurs, flush immediately with copious amounts of water and contact a physician. If swallowed, induce vomiting and CONTACT A PHYSICIAN IMMEDIATELY. Refer to MSDS for more information.
Downloads

For more
information please
call IPA Systems, Inc.
at 800.523.3834 or
215.425.6607
or email us at:
info@ipasystems.com