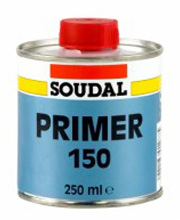 SoudaSeal Primer 150
SoudaSeal Primer 150
---
Universal Primer
DESCRIPTION: SoudaSeal Primer 150 is a universal primer for porous surfaces to be used with silicone sealants and sealants based on MS polymers.
USES:
Joint walls of expansion joints
Joint walls of porous materials with high water exposure
ADVANTAGES:
Liquid, easy application
Suitable for silicones and MS polymer based sealants and adhesives
PACKAGING AND YIELD:
250 ml tin; 1 liter containers
Colors: transparent
SHELF LIFE:
12 months in unopened packaging in a cool and dry storage
place at temperatures between 41°F and 77°F. Protect against frost.
CAUTION – FOR INDUSTRIAL USE ONLY:
KEEP OUT OF REACH OF CHILDREN. Avoid skin and eye
contact. On contact, uncured sealant could cause irritation to
skin and eyes. In case of eye contact, flush eyes with warm water
for 15 minutes, call a physician. For skin contact, remove sealant
with a paper towel. If swallowed, do not induce vomiting, call a
physician. Refer to Material Safety Data Sheet (MSDS) for further
information.
Downloads

For more
information please
call IPA Systems, Inc.
at 800.523.3834 or
215.425.6607
or email us at:
info@ipasystems.com