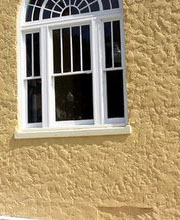 Quaker Waterprofing Additive
for Stucco
QUAKER Waterproofing Additive
---
Additive for waterproofing stucco coatings
DESCRIPTION:
Quaker Waterproofing Additive integrally waterproofs stucco, plaster and other portland cement based materials through unique chemical reaction that occur during the cement hydration process. The waterproofing that occurs is permanent and will not break down over time due to ultraviolet exposure. When used in a stucco system (base coat and finish) Quaker Waterproofing Additive will increase durability and performance for the life of the stucco.
USES:
Stucco base coat and finish coat
Below grade parge coat for negative side waterproofing
Portland cement plaster for inside fountains and ponds
Brick, stone and block mortars
Stick-on stone applications
ADVANTAGES:
Integrally, permanently waterproofs
Reduces shrinkage
Protects finishes from efflorescence
Improved freeze/thaw durability
Cost effective
Excellent longevity and durability - proven performance
Improves color uniformity and retention
Improved workability of mixes
PACKAGING AND YIELD:
QUAKER WATERPROOFING ADDITIVE is packaged in 16 oz bottles, 1 gallon jugs and 5 gallon pails. Material should be dosed at a rate of 16 ounces per 100 lbs. of portland cement. Material should be thoroughly mixed prior to use. When using with Quaker Stucco, add 1 pint per 5 bags of finish coat.

SHELF LIFE: One year in original unopened packaging.

CAUTION – FOR INDUSTRIAL USE ONLY:
Consult MSDS and package label for additional safety and use information.
Downloads

For more
information please
call IPA Systems, Inc.
at 800.523.3834 or
215.425.6607
or email us at:
info@ipasystems.com