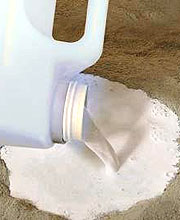 OCTOWELD Bonding Agent for mortars and plasters
OCTOWELD
---
Bonding Agent for Surface Application
DESCRIPTION: OCTOWELD is a liquid vinyl acetate polymer used as an easy spreading bonding agent for plasters and mortars.
USES: OCTOWELD will bond fresh concrete to hardened concrete, white coat, gypsum plaster, portland cement, acoustical plaster and similar materials to practically any clean, structurally sound surface.
ADVANTAGES:
Made in America
Easy to use
Contractor friendly, Can be brushed, rolled on or sprayed
Excellent adhesion
PACKAGING AND YIELD: OCTOWELD is packaged 4 gallons (15.1 L) per case, in 5 gallon (18.9 L) pails and in 55 gallon (208.2 L) drums.
Coverage: On concrete, Octoweld will cover 200 to 400 square feet (18.6 to 36.2 m2) per gallon (3.8 L). On plaster, a gallon (3.8 L) will cover 400 to 600 square feet (36.2 to 55.7 m2). Actual coverage will be determined by the porosity of the surface to be bonded.
SHELF LIFE: One year in unopened containers.
LIMITATIONS:Minimum material, surface and ambient temperature must be 40°F. Max Temperature is 95°F. Do not use with expansive cementitious grouts. Do not allow material to freeze

CAUTION – FOR INDUSTRIAL USE ONLY:
In accordance with federal regulations, do not apply unless Material Safety Data Sheet (MSDS) is available on-site. Consult MSDS before using this product. Avoid ingestion and contact with eyes. If accidental skin or eye contact occurs, rinse immediately and repeatedly with water. If irritation continues, obtain medical assistance from a physician. Consult MSDS for additional safety information.
Downloads

For more
information please
call IPA Systems, Inc.
at 800.523.3834 or
215.425.6607
or email us at:
info@ipasystems.com