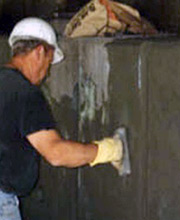 Patch and repair concrete with IPA OCTOSKIM
OCTOSKIM
---
Cementitious Polymer Modified Surfacing Mortar
DESCRIPTION: OCTOSKIM Acrylic is a two component, modified acrylic, high strength repair and resurfacing compound. It is engineered to provide maximum durability, excellent adhesive properties for a long term durability. Octoskim is designed for 1/4 inch maximum thickness overlay.
USES: OCTOSKIM is used to repair, patch and resurface damaged concrete and mortar surfaces. It bonds quickly and permanently to restore older worn surfaces to their original condition such as: repairing of shallow holes and cracks, resurfacing concrete blocks and thin set cementitious overlays. Can be used above and below grade.

ADVANTAGES:
Made in America
High strength with superior adhesion to substrates
Traffic bearing within 24 hours
Resistant to de-icing chemicals and freeze thaw resistant
Excellent freeze-thaw resistance
Exceptional workability
Dries concrete gray
PACKAGING AND YIELD: Octoskim is packaged in 10 lb. (4.5 kg) and 50 lb. (22.7 kg) pails, as well as 500 lb. (226.8 kg) drums. Shelf life: 1 year in unopened pails. Store dry at 40°-95°F (4°-35°C). Condition material to 65°-75°F before using.
YIELD: One pound of Octoskim (.45 kg) will cover an area 1 square foot and 1/8 inch thick (.09 m2 x 3.2 mm thick).
SHELF LIFE: One year in unopened container. Store dry at 40°-95°F (4°-35°C). Condition material to 65°-75°F before using.
LIMITATIONS: Minimum material, surface and ambient temperature must be 40°F (4.4°C) and rising. Minimum lift: 1/4 Inch. Do not apply to a frozen surface or allow material to freeze. Do not use solvent based curing compounds
CAUTION – FOR INDUSTRIAL USE ONLY:
Contact with liquid may cause eye irritation. Prolonged skin contact may cause some irritation. Avoid inhalation of vapor or mist to prevent irritation of the nose, throat and lungs. Signs of overexposure are headache and nausea. Move affected person to fresh air. Freshly mixed cement, mortar, grout, or concrete may cause minor skin irritation Avoid direct contact where possible and wash exposed skin area promptly with water. If any of the cementitious material gets into the eyes, rinse immediately and repeatedly with water. If irritation persists, obtain medical assistance. Consult MSDS and package label for additional safety and use information.
Downloads


Liquid Material Safety
Data Sheet


Powder Material Safety Data Sheet
For more
information please
call IPA Systems, Inc.
at 800.523.3834 or
215.425.6607
or email us at:
info@ipasystems.com