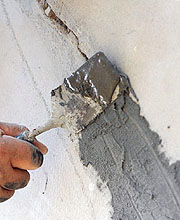 Stop masonry leaks fast with
IPA System's OCTOPLUG PLUS!
OCTOPLUG PLUS
---
Rapid Setting Water Stop Mortar
DESCRIPTION: OCTOPLUG PLUS is a single component, expanding, polymer modified hydraulic cement based water-stop mortar. It is designed to stop running water and seeping water through cracks in concrete and masonry.
USES: OCTOPLUG PLUS can be used to quickly and permanently stop running water through seeping cracks, holes, joints, vertical or horizontal masonry and concrete surfaces under hydrostatic pressure. Other applications in-clude:
To quickly and permanently plug and seal construction holes left by wood or steel separators, form ties or tie wire cut-offs.
As a rapid-setting anchoring grout for ornamental/functional iron, dowels and bolts where continuous high vibration is not a factor.
By plumbing and electrical trades to permanently grout openings around clay, plastic and metal pipes, boxes and fixtures placed in masonry and concrete walls.
Filling and resurfacing honeycombs and surface breaks in precast and poured in-place concrete

ADVANTAGES:
Made in the America
Available in two initial set times: 60 to 90 sec. & 3 to 5 min.
Polymer modified for better workability
Available in 10 lb pails for smaller projects
Economical– jut add water
PACKAGING AND YIELD:
Packaging: 10 lb. (4.5 kg) Plastic Pail; 50 lb. (22.7 kg) Plastic Pail
Yield: One pound (.45 kg) of Octoplug plus will fill 19 cubic inches (312 cm3) or 6.3 lineal feet of crack 1/2 inch deep and 1/2 inch wide (192.8 cm x 12.7 mm x 12.7 mm).
SHELF LIFE: One year in unopened container. Requires dry storage.
LIMITATIONS: Minimum material, surface and ambient temperature must be 40°F (4.4°C) and rising. Setting time is accelerated by heat and decreased by cold. 60 second initial set occurs when the water and surface temperature are at 70°F (21°C). Do not mix more than can be used in 60 to 90 seconds.
CAUTION – FOR INDUSTRIAL USE ONLY:
Wet cement, especially as an ingredient of a plastic mixture, can dry the skin and cause alkali burns. Cement dust can irritate the eyes and respiratory system. Cement dust can cause inflammation of the lining tissue of the nose and inflammation of the cornea. Hypersensitive individuals may develop an allergic dermatitis. Cement may contain traces of hexavalent chromium. This product may contain 2 to 50 percent silica sand, a portion of which may be respirable dust. In its dry state, refrain from inhalation of dust to prevent possible free silica exposure. Users should wear rubber gloves, eye protection and protective clothing to prevent skin and eye contact. Good
ventilation to control dust levels is recommended. Consult MSDS and package label for additional safety and use information.
Downloads

For more
information please
call IPA Systems, Inc.
at 800.523.3834 or
215.425.6607
or email us at:
info@ipasystems.com