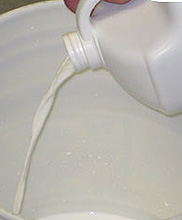 OCTOBLEN Acrylic Bonding Agent
OCTOBLEN
---
Acrylic Bonding Agent
DESCRIPTION: OCTOBLEN is a liquid admixture comprised of acrylic polymers and modifiers which when added to any Portland cement mixture will greatly improve physical properties and adhesion strength.
USES: OCTOBLEN can be used as an admixture for improving physical properties of cement based materials. Application examples are: toppings, repair mortars, leveling courses, thin sets, terrazzo, stucco and bond coats and all other cement based products
ADVANTAGES:
Made in America
Easy to use
Improves bond strength, tensile and flexural properties
Increases durability under freeze/thaw cycles
Improves chemical resistance
Reduces cracking and improves impact resistance
Greater resistance to dusting and aids in curing
PACKAGING AND YIELD: OCTOBLEN is packaged in 1 gallon ( 3.85 L) jugs, 5 gallon (18.9L) pails and 55 gallon (208.2L) drums. Larger bulk packaging is available and may be sized to meet our customers needs.
SHELF LIFE: One year in unopened containers.
LIMITATIONS: Minimum material, surface and ambient temperature must be 40°F (4.4°C) and rising. Do not apply solvent containing compounds or coatings over Octoblen modified mixtures. Do not use in air-entraining cements.

CAUTION – FOR INDUSTRIAL USE ONLY:
Freshly mixed cement, mortar, grout, or concrete may cause minor skin irritation. Avoid direct contact where possible and wash exposed skin area promptly with water. If any of the cementitious material gets into the eyes, rinse immediately and repeatedly with water. If irritation persists, obtain medical assistance. Consult MSDS for additional safety information.
Downloads

For more
information please
call IPA Systems, Inc.
at 800.523.3834 or
215.425.6607
or email us at:
info@ipasystems.com