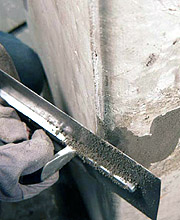 IPATOP VO Versatile Polymer Modified Repair Mortar
IPATOP VO
---
Vertical and Overhead Polymer Modified Repair Mortar
DESCRIPTION: IPATOP VO is a two component cementitious polymer modified repair mortar. Controlled set and slump provide a superior NON-SAG repair mortar for vertical and overhead repairs.
USES:
A NON-SAG thick hang-up mortar on above and below grade concrete structures.
For filling form tie holes, honeycombs, post tensioned pockets and other voids in concrete, brick or masonry.
Finishing chipped columns, damaged parapet walls, chipped precast sections, capping pre-stressed hardware.
Rehabilitation or restoring existing concrete structures.
Structural repairs on parking ramps, bridges, tunnels and power plants.
ADVANTAGES:
Made in America
Excellent non-sag properties designed for deeper lifts per application
Superb workability and finishing properties
Can be shaved to meet architectural requirements
Excellent freeze-thaw resistance
Pre-measured units, no water needed
Dries concrete gray
PACKAGING AND YIELD:
IPATOP VO is a two component Kit:
Component A — Liquid Polymer in 1 Gallon Plastic Jug (3.8 Liters)
Component B — Powder blend of portland cement, admixtures and finely graded aggregates in 44.0 LB (20 kg) bag
Total Kit Weight is 52.5 lb. (23.8 kg)
Yield: Approximately 0.5 cubic feet per bag
SHELF LIFE:
Component A – Indefinite when unopened – DO NOT FREEZE
Component B – One year in unopened bag. Store dry at 40°-95°F (4°-35°C). Condition material to 65°-75°F before using.
LIMITATIONS:
Do not install IPATOP VO unless substrate and air temperature are at least 45°F (7°C). Do not apply to a frozen surface or allow material to freeze. Component A is destroyed if frozen. DO NOT USE SOLVENT BASED CURING COMPOUNDS. Care must be taken to insure proper concrete practices are used in preparation, mixing, placing and curing.

CAUTION – FOR INDUSTRIAL USE ONLY:
Freshly mixed cement, mortar, grout, or concrete may cause minor skin irritation. Avoid direct contact where possible and wash exposed skin areas promptly with water. If any of the cementitious material get into the eyes, rinse immediately and repeatedly with water. If irritation persists, obtain medical assistance. Consult MSDS for additional safety information.
Downloads


IPATOP LIquid
Material Safety Data Sheet


IPATOP Powder
Material Safety Data Sheet
For more
information please
call IPA Systems, Inc.
at 800.523.3834 or
215.425.6607
or email us at:
info@ipasystems.com