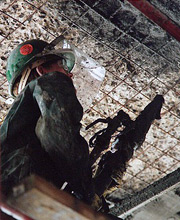 IPATOP SHOTCRETE application
IPATOP SHOTCRETE
---
Silica Fume Enhanced Pneumatic Applied Mortar
DESCRIPTION: IPATOP SHOTCRETE is a one-component, micro silica enhanced material designed for horizontal, vertical and overhead concrete repairs covering large areas. IPATOP SHOTCRETE is formulated for pneumatic application using dry process shotcrete equipment.
USES: IPATOP SHOTCRETE is designed for large area application structural repairs of bridges,parking garages, piers, dams, retaining walls, abutments, tunnels, buildings, etc.
ADVANTAGES:
Made in America
Low rebound
Low permeability
One-component, ready to use mortar
Can be troweled or screeded after application.
Excellent bond strength to properly prepared sound substrates.
High compressive and flexural strength. Rapid early development of physical properties.
PACKAGING AND YIELD:
IPATOP SHOTCRETE is packaged in 50 lb (22.7 kg) bags
Yield: Approximately 0.45 cubic feet per bag (0.01 cubic meter) Yield in service will vary according to the amount of water utilized during shotcrete process.
SHELF LIFE: One year in unopened bag. Store dry at 40°-95°F (4°-35°C). Condition material to 65°-75°F before using.
LIMITATIONS:
Minimum material, surface and ambient temperature must be 40°F (4.4°C) and rising. Minimum application: 1/2 Inch- Maximum lift: 2 inches. Do not apply to a frozen surface or allow material to freeze. Do not apply when raining or chance of rain.

CAUTION – FOR INDUSTRIAL USE ONLY:
Contains portland cement and crystalline silica. Avoid contact as material may cause skin and eye irritation. Avoid breathing dust as material may cause respiratory irritation. Use only with adequate ventilation. May cause delayed lung injury (silicosis). Use of safety goggles, chemical resistant gloves and a NIOSH/MSHA approved respirator is recommended. In case of skin contact, wash thoroughly with soap and water. For eye contact, flush immediately with plenty of water and contact a physician. For respiratory problems, remove person to fresh air. Consult MSDS for additional safety information.
Downloads

For more
information please
call IPA Systems, Inc.
at 800.523.3834 or
215.425.6607
or email us at:
info@ipasystems.com