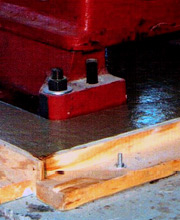 Non-Shrink IPATOP PENNGROUT
IPATOP PENNGROUT
---
Versatile high strength non-shrink cementitious grout
DESCRIPTION: IPATOP PENNGROUT is a premixed, non-metallic, cementitious, controlled expansion, high strength, versatile non-shrink grout. PENNGROUT contains a balanced blend of washed and graded silica sands. Formulated for dry-pack, plastic, pumpable and pourable applications.
USES: IPATOP PENNGROUT is used to fill voids and cavities in concrete or to anchor materials in concrete. Typical uses include setting columns, railings, posts, bridge bearing plates, anchor bolts and rods, grouting machinery baseplates and precast concrete members as well as prestressed and post tensioned cables.
ADVANTAGES:
Made in America
Economical and easy to use… just add water

High early, high ultimate strengths
No corrosive, non-metallic, will not stain or rust
No calcium chlorides or alumina
Resistant to water and water
Excellent freeze/thaw resistance
Multiple applications methods: poured, troweled, pumped, dry packed, rammed, vibrated or agitated without segregation
PACKAGING AND YIELD: 52 lb. bag (23.6 kg)
Yield: Approximately 0.5 cubic feet (14.2L) at the plastic consistency
SHELF LIFE: One year in original, unopened bag. Store dry at 40°-95°F (4°-35°C) Condition material to 65°-75°F before using.
LIMITATIONS:
Minimum ambient and substrate temperatures 40°F and rising. Minimum application: 1/2 Inch. Maximum application thickness without Extension: 2 inches. Do not use in unconfined areas, patching or overlay applications. Avoid contact with aluminum to prevent adverse chemical reaction

CAUTION – FOR INDUSTRIAL USE ONLY:
Contains Portland cement and crystalline silica. Avoid contact with skin and eyes. Avoid breathing dust. Use adequate ventilation. In case of skin contact, wash thoroughly with soap and water. Obtain medical assistance. Consult MSDS for additional safety information.
Downloads

For more
information please
call IPA Systems, Inc.
at 800.523.3834 or
215.425.6607
or email us at:
info@ipasystems.com