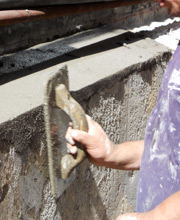 Repair concrete quickly with IPATOP HES rapid setting mortar
IPATOP HES
---
Rapid Setting, High Strength, Cement Based Mortar
DESCRIPTION: IPATOP HES is a one component cementitious shrinkage compensated repair mortar for horizontal concrete surfaces. It is designed for use where high early strength gain is required to minimize downtime.
USES: IPATOP HES is ideal for the horizontal concrete repairs where high early strength gain is required for a fast project turnover. Applications include: interior / exterior structural concrete repairs, bridge decks, parking decks, industrial floors, airport runways, commercial freezer rooms, etc.
ADVANTAGES:

Made in the America
Open to vehicular traffic in as little as one hour
Shrinkage compensated in both the plastic and hardened states
Coefficient of expansion similar to concrete
Resistant to deicing chemicals
Excellent freeze-thaw resistance
Just add water
Economical-can be extended up to 100% by weight with aggregate
PACKAGING AND YIELD:
50 lb. bag (22.7 kg)
Yield: Approximately 0.5 cubic feet (0.01 cubic meter) per bag
SHELF LIFE:
Six months in unopened bag. Store dry at 40°-95°F (4°-35°C). Condition material to 65°-75°F before using.
LIMITATIONS:
Do not install IPATOP HES unless substrate and ambient air temperature are at least 40°F (4.4°C). Minimum application: 1/2 Inch. Do not apply to a frozen surface. Care must be taken to insure proper concrete practices are used in preparation, mixing, placing and curing.

CAUTION – FOR INDUSTRIAL USE ONLY:
Freshly mixed cement, mortar, grout, or concrete may cause minor skin irritation. Avoid direct contact where possible and wash exposed skin areas promptly with water. Consult MSDS for additional safety information.
Downloads

For more
information please
call IPA Systems, Inc.
at 800.523.3834 or
215.425.6607
or email us at:
info@ipasystems.com