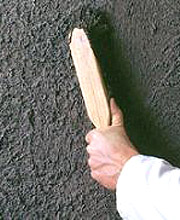 Applying IPATOP COAT
to block wall
IPATOP COAT
---
Cementitious, weatherproof coating for concrete or masonry
DESCRIPTION: IPATOP COAT is is a two component cementitious polymer modified coating. Breathable, protective, weatherproof shield for exterior concrete or masonry walls.
USES: IPATOP COAT may be brushed-on, rolled or sprayed as a coating for concrete, masonry or block. Provides a uniform decorative finish over mortar repaired surfaces. Renews older masonry or concrete surfaces to restore a bright, highly durable finish.
ADVANTAGES:
Made in America
May be applied by brush, roller or spray
Coated areas will breathe
Excellent abrasion resistance
Freeze-thaw resistance
Economical and easy to use
Easy to use kit eliminates use of convenience water
PACKAGING AND YIELD:
Packing: Two-Component Kit: Component A – White liquid polymer in 5 gallon (18.9 liter) plastic pail
Component B – Powder blend of Portland cement, admixtures and finely graded aggregates in 43.55 lb. (15.4 kg) bag Total weight 70 pounds (24.8 kg)
Yield: Approximately 5 gallons (18.9 Liters)
Coverage: 100 to 200 square feet per gallon (2.4 to 4.9 sq. meters per liter) - will depend upon porosity of the surface.
Concrete block – approximately 100 square feet per gallon (2.4 sq. meters per liter) Dense concrete – 200 square feet per gallon (4.9 sq. meters per liter).
SHELF LIFE:
Component A – Indefinite when unopened
Component B – One year in unopened bag. Requires dry storage
LIMITATIONS:
Minimum material, surface and ambient temperature must be 45°F (7°C) and rising
Maximum thickness per coat should not exceed 16 mils wet.
Color uniformity is difficult to maintain when substrate suction is uneven.
Do not apply to a frozen surface or allow material to freeze
Do not use solvent based curing compounds
CAUTION – FOR INDUSTRIAL USE ONLY:
Freshly mixed cement, mortar, grout, or concrete may cause minor skin irritation. Avoid direct contact where possible and wash exposed skin area promptly with water. If any of the cementitious material gets into the eyes, rinse immediately and repeatedly with water. If irritation persists, obtain medical assistance. Refer to MSDS for more information.
Downloads


Liquid Material Safety Data Sheet


Powder Material Safety Data Sheet
For more
information please
call IPA Systems, Inc.
at 800.523.3834 or
215.425.6607
or email us at:
info@ipasystems.com