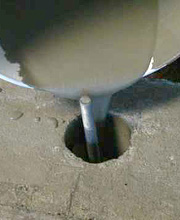 IPATOP Anchor Cement
---
Pourable Cementitious Anchoring Compound
DESCRIPTION: IPATOP Anchoring Cement is a rapid-setting, early strength, pourable anchoring cement.
USES: IPATOP Anchoring Cement is used for a wide variety of applications that include: Anchoring of wood or metal sign posts, fence posts, parking meters, dowels, rods , setting appliances, machinery, processing equipment, conveyors and other fixtures in concrete and masonry.
ADVANTAGES:
Made in America
Fast setting, high strength
Non-shrink, non-metallic, non-corrosive
Easy to use, economical
Pourable
PACKAGING AND YIELD:
Packaging: Available in 50 lb 22.7 kg pails. Shelf life of 12 months in properly stored sealed containers.
Coverage: 1 lb. (.43 kg) of anchoring cement will fill 14 cubic inches.
LIMITATIONS:

Minimum material, surface and ambient temperature must be 40°F and not to go below for 24 hrs.
Do not allow material to freeze
CAUTION – FOR INDUSTRIAL USE ONLY:
In accordance with federal regulations, do not apply unless Material Safety Data Sheet (MSDS) is available on-site. Consult MSDS before using this product. If contact with eyes or skin occurs, flush immediately with copious amounts of water and contact a physician. If swallowed, induce vomiting and CONTACT A PHYSICIAN IMMEDIATELY..
Downloads

For more
information please
call IPA Systems, Inc.
at 800.523.3834 or
215.425.6607
or email us at:
info@ipasystems.com