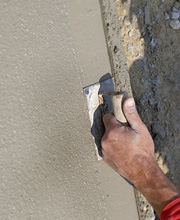 IPATOP SCP Light weight mortar
IPATOP SCP
---
Polymer Modified Lightweight V/O Repair Mortar
DESCRIPTION: IPATOP SCP is a premixed, single component, cementitious, high strength, versatile repair mortar. IPATOP RM contains a blend of graded silica sands to produce a repair mortar that can be used in a wide range of consistencies..
USES: IPATOP SCP is ideal for vertical and overhead concrete repairs to fill deep spalls or small holes. Applications include: interior / exterior Structural concrete repairs, bridge decks, parking decks, walls, columns, above and below grade. Concrete, masonry and block
ADVANTAGES:

Made in the America
Excellent non-sag properties with glass-bead technology designed for deeper lifts per application
Superb workability and advanced finishing properties
Can be shaven to meet architectural requirements
Excellent freeze-thaw resistance
Single component, just add water
Polymer modified and Silica-fume enhanced to improve adhesion & product performance
PACKAGING AND YIELD: 50 lb. bag (22.7 kg)
Yield: about 0.5 cubic ft(0.01 cubic meters)
SHELF LIFE: One year in unopened bag. Store dry at 40°-95°F (4°-35°C). Condition material to 65°-75°F before using.
LIMITATIONS:
Minimum material, surface and ambient temperature must be 45°F (7°C) and rising
Minimum application: 1/4 Inch
Do not apply to a frozen surface or allow material to freeze
Do not use solvent based curing compounds

CAUTION – FOR INDUSTRIAL USE ONLY:
Freshly mixed cement, mortar, grout, or concrete may cause minor skin irritation. Avoid direct contact where possible and wash exposed skin areas promptly with water. If irritation persists, obtain medical assistance. Consult MSDS for additional safety information.
Downloads

For more
information please
call IPA Systems, Inc.
at 800.523.3834 or
215.425.6607
or email us at:
info@ipasystems.com