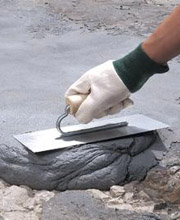 IPATOP RM is a versatile concrete repair mortar.
IPATOP RM
---
General Repair Concrete Repair Mortar
DESCRIPTION: IPATOP RM is a premixed, single component, cementitious, high strength, versatile repair mortar. IPATOP RM contains a blend of graded silica sands to produce a repair mortar that can be used in a wide range of consistencies..
USES: IPATOP RM is ideal to fill voids and cavities in concrete. Typical uses include horizontal patching of bridge decks, parking garages and machine pads in industrial applications where impact damage and spalling have caused deep wear.
ADVANTAGES:

Made in the America
Has both high early and high ultimate strengths
High abrasion resistance
Contains no corrosive or corrosion susceptible ingredients
Excellent freeze-thaw resistance
Economical and easy to use
May be poured, troweled, pumped, vibrated or agitated without segregation or compaction
PACKAGING AND YIELD: 52 lb. bag (23.6 kg)
Yield: A 52 lb. (23.6 kg) bag of IPATOP RM yields about 0.5 cubic ft(14.2 L) of material at the plastic consistency. Up to 25 lbs.(11.3 kg) of washed pea gravel may be added per bag of IPATOP RM .
SHELF LIFE: One year in unopened bag. Store dry at 40°-95°F (4°-35°C). Condition material to 65°-75°F before using.
LIMITATIONS:
Do not install IPATOP RM unless substrate and ambient air temperature are at least 45°F (7°C). Minimum application: 1/2 Inch. Do not apply to a frozen surface or allow material to freeze. Care must be taken to insure proper concrete practices are used in preparation, mixing, placing and curing. Do not use solvent based curing compounds.

CAUTION – FOR INDUSTRIAL USE ONLY:
Freshly mixed cement, mortar, grout, or concrete may cause minor skin irritation. Avoid direct contact where possible and wash exposed skin areas promptly with water. If irritation persists, obtain medical assistance. Consult MSDS for additional safety information.
Downloads

For more
information please
call IPA Systems, Inc.
at 800.523.3834 or
215.425.6607
or email us at:
info@ipasystems.com