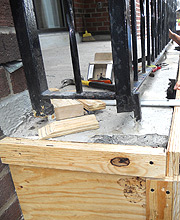 IPATOP HF High Flow mortar
IPATOP HF
---
Pourable and Pumpable Concrete Repair Mortar
DESCRIPTION: IPATOP HF is a one component cementitious, shrinkage compensated, flowable repair mortar for pour and pump applications. IPATOP HF contains a graded aggregate which eliminates segregation under pumping pressures and assists with uniform mixing, and additives which control shrinkage in both the plastic and hardened states.
USES: IPATOP HES is ideal for the repair of large structural sections of reinforced concrete or for areas where hand patching is impractical. Due to the high flow characteristics of IPATOP HF, minimal vibration is required to place the material even in areas where the reinforcement is congested or access to the repair work is restricted. Use IPATOP HF for the repair of beams, columns, balcony sections, or areas where formwork repair is more practical.
ADVANTAGES:

Made in the America
Economical alternative to hand patching large repair areas.
Shrinkage compensated in both the plastic and hardened states.
High early strength reduces form cycle time and placement costs.
Excellent resistance to deicing chemicals and freeze-thaw resistance
Excellent workability and high flow characteristics result in labor savings
Dries concrete gray
PACKAGING AND YIELD:
55 lb. bag (24.9 kg)
Yield: Approximately 0.5 cubic feet (0.01 cubic meter) per bag
SHELF LIFE:
One year in unopened bag. Store dry at 40°-95°F (4°-35°C). Condition material to 65°-75°F before using.
LIMITATIONS:
Minimum material, surface and ambient temperature must be 40°F (4.4°C) and rising. Minimum application: 1/2 Inch. Do not apply to a frozen surface or allow material to freeze. Care must be taken to insure proper concrete practices are used in preparation, mixing, placing and curing.

CAUTION – FOR INDUSTRIAL USE ONLY:
Freshly mixed cement, mortar, grout, or concrete may cause minor skin irritation. Avoid direct contact where possible and wash exposed skin areas promptly with water. Consult MSDS for additional safety information.
Downloads

For more
information please
call IPA Systems, Inc.
at 800.523.3834 or
215.425.6607
or email us at:
info@ipasystems.com