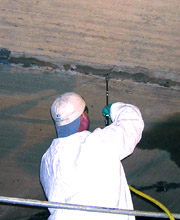 Crack repairs with IPATHANE
Hydrophilic Grout
IPATHANE Hydrophilic Grout
---
Polyurethane Chemical Injection Resin
DESCRIPTION: IPATHANE Hydrophilic Grout is a V.O.C. compliant, nonflammable polyurethane injection resin formulated to seal dynamic non-structural cracks in concrete and prevent water migration. Once in contact with water, it expands and cures to a closed-cell, flexible foam.
USES: IPATHANE Hydrophilic Grout is ideal for sealing leaks through concrete cracks and joints. With the use of an open cell backer rod, sealing joints has never been easier. Can seal cracks and joints for potable water and storage tanks.
ADVANTAGES:
Made in America
Quick Expansion
Non-corrosive, Non-flammable

Withstands varying thermal cycles and movements
Can be used in single or plural component injection pumps
Ideal for saturating open cell or oil-free oakum for expansion joints
PACKAGING: 5 Gallon Pail

SHELF LIFE:
IPATHANE Hydrophilic Grout is sensitive to moisture and moderately sensitive to high storage temperatures. It is recommended that the material be stored at temperatures between 41ºF—60ºF and in dry conditions. Maximum storage temperature should not exceed 80ºF. Once a container has been opened,
the material should be used as quickly as possible as the useful life of the material is greatly reduced.
LIMITATIONS:
Low temperature will significantly affect viscosity.
To minimize this effect, store product at normal room temperatures for a minimum of 24 hours prior to use.
If site temp. is low, heat bands can be utilized to maintain product temperature.
Lower viscosity improves penetration.
Do not exceed 80°F when warming.
CAUTION – FOR INDUSTRIAL USE ONLY:
Ipathane Hydrophilic grout should be used in well ventilated areas. Avoid eye and skin contact. Consult MDSD for additional information.
Downloads

For more
information please
call IPA Systems, Inc.
at 800.523.3834 or
215.425.6607
or email us at:
info@ipasystems.com