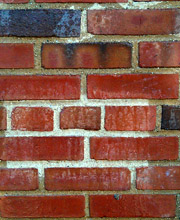 Brick wall sealed with
IPASEAL 50W
IPASEAL 50W
---
A penetrating water based silane/ siloxane sealer
DESCRIPTION: IPASEAL 50W is a VOC compliant, water based, silane/siloxane deep penetrating water repellent for concrete and masonry surfaces.
USES: IPASEAL 50W was developed to treat a wide variety of mineral substrates including architectural concrete, concrete block, splitface block, pavers, stucco, porous and dense brick, clay tile and exposed aggregate con-crete. It is particularly effective where good water repellency, beading, ease of use and stability are required.
ADVANTAGES:
Made in America
Provides excellent water repellency to reduce cracking, spalling, freeze/thaw damage, chemical degradation, biological growth, efflorescence and dirt pickup; thereby lengthening substrate life and reducing maintenance costs.
Provides excellent beading for improved aesthetics.
Formulated to minimize darkening effects thus not changing substrate appearance.
Good stability on highly alkaline surfaces for long term durability.
Physically and chemically bonds to substrate making cleaning easier and thereby reducing maintenance costs.
PACKAGING AND YIELD:
Available in 1 gallon (3.79 L), 5 gallon (18.93 L) and 55 gallon (208.18 L) containers.
Yield: Apply IPASEAL 50W at rate of 100-150 ft2 per gallon. Application rates may vary depending on the porosity of the substrate. Use test applications on actual surfaces to accurately determine coverage rates. Additional applications should be applied at the same rate.
SHELF LIFE:
Six months in unopened bag. Requires dry storage
LIMITATIONS:

Minimum material, surface and ambient temperature must be 40°F (7°C) and rising
Do not dilute material.
Do not apply if rain is expected within 12 hours of application.
CAUTION – FOR INDUSTRIAL USE ONLY:
IPASEAL 50W is non-flammable and non-hazardous. Avoid splashing into eyes or on skin. In case of eye contact, flush repeatedly with water and call a physician. Do not rub eyes. Avoid breathing vapors or mist. Wash hands and skin thoroughly after contact. Protect glass, metal, asphalt surfaces, shrubbery, plants and grass during application. Consult MSDS for complete material safety information.
Downloads

For more
information please
call IPA Systems, Inc.
at 800.523.3834 or
215.425.6607
or email us at:
info@ipasystems.com