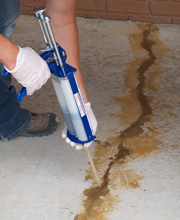 Crack repair with IPANOL Hi-Mod injection resin.
IPANOL HI-MOD
---
100% Solid Epoxy, High Modulus, Medium Viscosity Injection Resin
DESCRIPTION: IPANOL HI-MOD is a solvent-free, moisture insensitive, 100% solids, medium viscosity, two component epoxy bonding agent and injection resin. Recommended for structural crack repair for larger cracks; .007–.030 in / .18–.76 mm. An excellent epoxy adhesive for use in crack grouting by pressure injection or gravity-feed and for making epoxy mortars and grouts.
USES: IPANOLl HI-MOD is designed for structural bonding of fresh to hardened & old to old concrete . Structural crack repair for larger cracks, i.e. .007–.030 in / .18-.76 mm cracks. Structural adhesive for concrete, masonry, metal, wood, etc.
ADVANTAGES:
Made in America
Superior Adhesion
Fast setting
Easy to mix 1:1 ratio
Moisture insensitive
PACKAGING AND YIELD:
Packing: 2 gal / 7.6 liter units (2 - 1 gal cans)
10 gal / 37.9 liter units (2 - 5 gal pails)
110 gal / 416.4 liter units (2 - 55 gal drums)
Appearance: component A– white component B– gray

Coverage: 1 gallon (3.8 L) of IPANOL HIMOD will cover approximately 80 to 100 square feet (7.4 m2 to 9.3 m2) on a smooth surface. Coverage will be less on a rough surface. 1 gallon (3.8 L) of IPANOL HIMOD when mixed with 1 gallon of loose oven dried aggregate yields 360 cubic inches ( 5.9 L) of grouting adhesive. Mixing 1 gallon of IPANOL HIMOD with 3 gallons (11.4 L) of loose aggregate will yield approximately 660 cubic inches (10.8 L) of epoxy mortar.
SHELF LIFE: One year in original unopened container Storage Conditions: Store at 40 - 95°F (5 - 35°C). Condition material to 65 - 85°F (18 - 29°C) before using.
LIMITATIONS:
Minimum material, surface and ambient temperature must be 40°F and rising
For best results use between 65 – 85°F (18 – 29°C).
Do not thin with solvents
Minimum age of concrete must be 5-7 days.
Do not seal slabs on grade. Ipanol HIMOD is a vapor barrier in this application.
Maximum epoxy mortar thickness is 1.5" / 3.8 cm per lift.
CAUTION – FOR INDUSTRIAL USE ONLY:
Component A – Irritant • Component B – Corrosive • Product is a strong sensitizer. Use of safety goggles and chemical resistant gloves are recommended. • Use of a NIOSH/MSHA organic vapor respirator is recommended if ventilation is inadequate. • Avoid breathing vapors. • Avoid skin contact. First Aid: EYE CONTACT: Flush immediately with water for at least 15 minutes. Contact physician immediately. RESPIRATORY CONTACT: Remove person to fresh air. SKIN CONTACT: Remove any contaminated clothing. Remove epoxy immediately with a dry cloth or paper towel. Solvents should not be used as they carry the irritant into the skin. Wash skin thoroughly with soap and water. CURED EPOXY RESINS ARE INNOCUOUS. See MSDS for additional precautionary information and health hazard data.
Downloads

For more
information please
call IPA Systems, Inc.
at 800.523.3834 or
215.425.6607
or email us at:
info@ipasystems.com