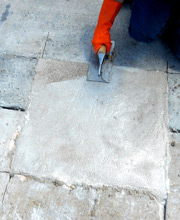 Resufacing concrete with
IPANOL E-FLEX RM.
IPANOL E-FLEX RM
---
A multi-purpose, high strength, flexible epoxy repair mortar

DESCRIPTION: IPANOL E-FLEX RM is a 100% solids, three component, multi-purpose, high strength, flexible, non-shrink epoxy repair mortar. It is combined with a select blend of engineered aggregates to provide a superior repair mortar with similar characteristics to the host concrete.

USES: IPANOL E-FLEX RM is used for repairing concrete and as a leveling or slopping epoxy material. Application use: parking decks, ramps, pedestrian walkways, bridge decks, loading docks, joint nosing's, industrial plants, and mechanical rooms.


ADVANTAGES:
Made in the America
Low modulus, flexible
High tensile, compressive & early strengths
Compatible with Ipanol E-Flex Overlay System
Moisture insensitive, nonflammable
Excellent bond strength –chemically bonds to concrete
Easy to mix: 1:1 resin + aggregate: application friendly
PACKAGING AND YIELD:
Packing: Small kits mixed yield: .5 cu. ft. / .014 cu m
Large kits mixed yield: 2 cu. ft. / .56 cu m kits
SHELF LIFE:
One year in unopened containers. Store in a cool dry place out of direct sunlight. Keep from freezing. Storage Conditions: store at 40°-95°F (5°-35°C). Condition material to 65°-85°F (18°-29°C) before using.
LIMITATIONS:
Minimum material, surface and ambient temperature must be 45°F and rising. Overlay system is a vapor barrier. Do not thin with solvents. Minimum age of concrete should be 5-7 days. Material needs to be preconditioned to 65°F before application.
CAUTION – FOR INDUSTRIAL USE ONLY:
Component A – Irritant • Component B – Corrosive • Product is a strong sensitizer. Use of safety goggles and chemical resistant gloves are recommended. • Use of a NIOSH/MSHA organic vapor respirator is recommended if ventilation is inadequate. • Avoid breathing vapors. • Avoid skin contact. First Aid: EYE CONTACT: Flush immediately with water for at least 15 minutes. Contact physician immediately. RESPIRATORY CONTACT: Remove person to fresh air. SKIN CONTACT: Remove any contaminated clothing. Remove epoxy immediately with a dry cloth or paper towel. Solvents should not be used as they carry the irritant into the skin. Wash skin thoroughly with soap and water. CURED EPOXY RESINS ARE INNOCUOUS. Refer to MSDS for more information.
Downloads

For more
information please
call IPA Systems, Inc.
at 800.523.3834 or
215.425.6607
or email us at:
info@ipasystems.com