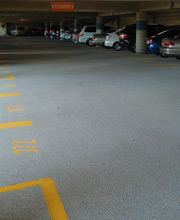 Parking garage resuraced with
IPANOL E-FLEX
IPANOL E-FLEX
---
A flexible, 100% solids epoxy overlay system
DESCRIPTION: IPANOL E-FLEX is a 100% solids, two component, low viscosity, solvent free, moisture insensitive epoxy bonding agent. It meets ASTM C-881, Type III, Grade 1, Classes B&C.
USES: IPANOL E-FLEX is used for bonding skid resistant overlays to concrete and other types of approved substrates. Mixed with approved aggregates, it can be used as an epoxy repair mortar. Application use: parking decks, pedestrian walkways, bridge decks, loading docks, joint nosings, industrial plants, and concrete repair.

ADVANTAGES:
Made in the America
Low modulus, low viscosity and flexible
Open to traffic within 3 hours at 77°F (25°C)
1:1 mixing ratio, easy to mix
Moisture insensitive, nonflammable
Excellent bond strength
Multiple applications
PACKAGING AND YIELD:
Packing: 2 gallon, 10 Gallon and 110 Gallon Units (37.85 liter and 416.35 liter)
YIELD: Bridge decks & Heavy duty overlay system: 1st Coat- 40 sq. ft. per gal. 2nd Coat– 20 sq. ft. per gal. Epoxy mortar: Sand to resin—3 to 5 parts sand/ aggregate:1 part of resin, by volume
SHELF LIFE:
One year in unopened containers. Store in a cool dry place out of direct sunlight. Keep from freezing.
LIMITATIONS:
Minimum material, surface and ambient temperature must be 45°F and rising. Overlay system is a vapor barrier. Do not thin with solvents. Minimum age of concrete should be 28 days. Material needs to be preconditioned to 65°F before application.
CAUTION – FOR INDUSTRIAL USE ONLY:
Ipanol E-Flex Epoxy System components contain alkaline amines. These materials are strong sensitizers and may cause skin sensitization or allergic response ranging from a mild wheezing to a severe asthmatic type attack. Avoid contact with skin or eyes. In case of contact, immediately wash skin with soap and water. Flush eyes with water and obtain medical attention. Wear protective clothing, goggles for eyes and barrier cream on all exposed skin. See MSDS for additional precautionary information and health hazard data.
Downloads

For more
information please
call IPA Systems, Inc.
at 800.523.3834 or
215.425.6607
or email us at:
info@ipasystems.com