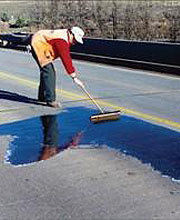 Applying IPANOL Deck Seal
IPANOL DECK SEAL
---
Lo-Mod / Low Viscosity Epoxy Healer / Sealer
DESCRIPTION: IPANOL Deck Seal is a 100% solids, low modulus, low viscosity highly penetrating, epoxy polymer. When applied to cracked concrete parking decks and elevated slabs, it will seal the cracks against the intrusion of chlorides and moisture, protecting the concrete from degradation and the corrosion of steel reinforcements.
USES: IPANOL Deck Seal is ideal for sealing interior concrete slabs, parking decks, bridge decks, loading docks and pedestrian walkways.
ADVANTAGES:
Made in America
Low modulus formula for moving cracks
Low viscosity for deep penetration
Compatible with Ipanol E-Flex Epoxy Overlay System
PACKAGING AND YIELD:
Packing: 3 gal./11.36 L units - 15 gal./56.78 L units

Coverage: 100 to 150 square feet per gallon depending on the profile and porosity of the substrate.
SHELF LIFE: 2 years in original unopened container. Store at 40°- 95°F (5°- 35°C). Condition material to 65°- 85°F (18°- 29°Ca) before using.
LIMITATIONS:
Minimum material, surface and ambient temperature must be 55°F and rising
Material is a vapor barrier
Do not thin with solvents. Solvents will prevent proper cure.
Minimum age of concrete should be 28 days
Not for exterior slabs on grade.
CAUTION – FOR INDUSTRIAL USE ONLY:
Component "A" Irritant: Prolonged contact with skin may cause irritation. Avoid eye contact. Component "B" Corrosive: Contact with skin may cause severe burns. Avoid skin contact. Product is a strong sensitizer. Use of safety goggles and chemical-resistant gloves is recommended. Avoid breathing vapors. Use adequate ventilation. Use of a NIOSH/MSHA organic vapor respirator recommended if ventilation is inadequate.
FIRST AID Remove contaminated clothing. For eye contact, flush immediately with plenty of water for at least 15 minutes; contact physician immediately. For respiratory problems, remove person to fresh air. For skin contact, remove epoxy immediately with a dry cloth or paper towel. Wash area of contact thoroughly with soap and water. Solvents should not be used because they carry the irritant into the skin. Wash clothing before re-use. Cured epoxy resins are innocuous. Refer to MSDS for more information.
Downloads

For more
information please
call IPA Systems, Inc.
at 800.523.3834 or
215.425.6607
or email us at:
info@ipasystems.com