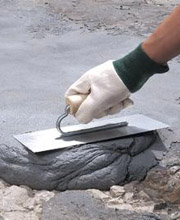 Applying IPANOL CWR for concrete repairs.
IPANOL CWR
---
100% Solid, cold weather epoxy-urethane repair resin
DESCRIPTION: IPANOL CWR is a solvent-free, high strength, cold weather -epoxy urethane resin system designed with an engineered aggregate for applications in a cold temperature environment.
USES: IPANOL CWR is used for horizontal spall repairs on bridge decks, parking decks, pedestrian walkways, freezer floors and industrial applications. Also can be utilized for crack repairs and post / railing setting.
ADVANTAGES:
Made in America
Designed for cold weather applications
Fast initial set; rapid gain to ultimate strength
Open to traffic in 30 minutes
Thermally compatible to concrete
Easy 1:1 ratio
PACKAGING AND YIELD:
1 gallon of A component and 1 gal of B component with engineered aggregate packaged in a 5 gallon kit. Each unit yields .45 cu. ft. ( 800 cu.in.).

SHELF LIFE:
One year in original unopened container. Storage Conditions: Store at 40°- 95°F (5°- 35°C) - protect from freezing

LIMITATIONS:
IPANOL CWR is moisture sensitive. Surface must be dry at application
Mix only quantities that can be used within the materials pot life.
Storage Conditions: Do not store above 85°F or in direct sun light.
For temperatures below 10°F, kit contents should be pre-conditioned to 65° F- 85°F.
CAUTION – FOR INDUSTRIAL USE ONLY:
Remove contaminated clothing. For eye contact, flush immediately with plenty of water for at least 15 minutes; contact physician immediately. For respiratory problems, remove person to fresh air. For skin contact, remove immediately with a dry cloth or paper towel. Wash area of contact thoroughly with soap and water. Solvents should not be used because they carry the irritant into the skin. Wash clothing before re-use. Cured product is innocuous. See MSDS for additional precautionary information and health hazard data.
Downloads


Part A Material Safety Data Sheet


Part B Material Safety Data Sheet
For more
information please
call IPA Systems, Inc.
at 800.523.3834 or
215.425.6607
or email us at:
info@ipasystems.com