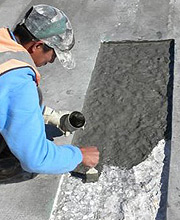 Applying IPANOL C for concrete repairs.
IPANOL C
---
Bonding Agent and Anti-Corrosion Inhibitor
DESCRIPTION: IPANOL C is a 3 component water based, solvent free, non-flammable , breathable VOC complaint, epoxy modified–cementitious bonding agent and corrosion inhibitor.
USES: IPANOL C is used as a bonding agent for fresh or plastic concrete to existing hardened concrete. For bonding cementitious repair materials to concrete or steel. For providing an anti-corrosion, protective coating for reinforcing steel in concrete.
ADVANTAGES:
Made in America
Long open time
Breathable: not a vapor barrier. Can be used on grade
Excellent adhesion to concrete and steel
Moisture insensitive, nonflammable
Kit contains 4 separate units for easy batching and smaller projects
Contractor friendly, easy to apply, can be sprayed
PACKAGING AND YIELD:
3.2 gal. units - Part A 0.2 gal, Part B 1 gal Part C 36 lb. (4 x 9 lb. bags)
Coverage: 80 sq. ft./gal (bonding agent) 40 sq. ft./gal (corrosion inhibitor)
SHELF LIFE:
One year in original unopened container. Storage Conditions: Store at 40°- 95°F (5°- 35°C) - protect from freezing

LIMITATIONS:
Minimum material, surface and ambient temperature must be 40°F.
Max Temperature is 95°F
Do not use with expansive cementitious grouts
Do not allow material to freeze
Minimum thickness 20 mils– bonding agent
Minimum thickness 40 mils—corrosion inhibitor
CAUTION – FOR INDUSTRIAL USE ONLY:
CAUTION Component "A" Irritant: Prolonged contact with skin may cause irritation. Avoid eye contact. Component "B" Corrosive: Contact with skin may cause severe burns. Avoid skin contact. Product is a strong sensitizer. Use of safety goggles and chemical-resistant gloves is recommended. Avoid breathing vapors. Use adequate ventilation. Use of a NIOSH/MSHA organic vapor respirator recommended if ventilation is inadequate. Component "C" Irritant: Contains Portland cement. Do not allow contact with eyes or skin. Contains concrete aggregates, sand. Avoid breathing dust. Respirable silica may cause serious lung problems. The use of gloves, goggles, and where appropriate, dusk masks and other protective clothing is recommended. Cured epoxy resins are innocuous. See MSDS for additional precautionary information and health hazard data.
Downloads

For more
information please
call IPA Systems, Inc.
at 800.523.3834 or
215.425.6607
or email us at:
info@ipasystems.com