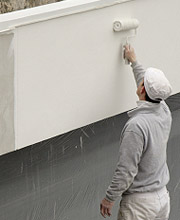 IPALASTIC Elastomeric
Decorative Coating
IPALASTIC
---
Water-based, Waterproof Acrylic Coating
DESCRIPTION: IPALASTIC is a water-based, waterproof, VOC-compliant, elastomeric, 100% acrylic decorative coating. Its elastic properties are designed to provide long term protection and waterproofing.
USES: IPALASTIC elastomeric coating is a protective coating for vertical and overhead substrates such as Concrete, Masonry, Block, Stucco, CMU, EIFS, Wood, Metal and other porous and non-porous surfaces. It can be utilized for many types of projects: New constructions, restorations or maintenance work where a decorative, protective elastomeric coating is needed.
ADVANTAGES:
Made in America
Available in smooth, fine, and coarse textures
Flexible even at low temperatures
Excellent UV resistance and color retention
VOC complaint, water-based– easy clean up
No plasticizers– will not become brittle with age
Breathable– will allow moisture to escape
PACKAGING AND YIELD:
Packing: IPALASTIC is available in 5 gallon pails and 55 gallon drums

Color: IPALASTIC is available in 15 standard colors and white. Custom blended colors are available upon request. Contact your distributor for color matching details.
Coverage: Will vary with the applicator and porosity of the surface to be coated. One gallon of Ipalastic (Smooth) will cover approximately 100 sq. ft. at a dry film thickness of 8 mils.
SHELF LIFE: One year in original unopened container. Storage Conditions: Store at 40°- 95°F (5°- 35°C) - protect from freezing.

LIMITATIONS:
Minimum material, surface and ambient temperature must be 40°F and not to go below for 24 hrs.
Do not applied to horizontal surfaces or traffic areas
Maximum application temperature is 100°F
Do not allow material to freeze, cannot be used if material freezes.
CAUTION – FOR INDUSTRIAL USE ONLY:
See MSDS for additional precautionary information and health hazard data.
Downloads

For more
information please
call IPA Systems, Inc.
at 800.523.3834 or
215.425.6607
or email us at:
info@ipasystems.com