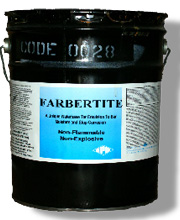 IPA Systems's Farbertite
Coal Tar corrosion protection
FARBERTITE
---
Water Based Corrosion Protection Coal Tar Coating

A unique, water-based, coal tar coating that provides exceptional adhesion, flexibility and corrosion protection for concrete, wood or steel construction components that may be exposed to aggressive environments, particularly in marine applications.

DESCRIPTION: FARBERTITE is a coal tar compound containing an inert mineral filler and a corrosion inhibitor suspended in a water-based system. It contains no asphaltic material, resin, acid, caustic alkali, sulfur or compounds of sulfur. It contains no volatile ingredients that are toxic.

USES: Farbertite is a versatile coating for protecting concrete or metals in aggressive environments. It will seal and protect many different surfaces from water and salt penetration as well as common acids and alkalis.

ADVANTAGES:
Made in America
Dries to provide a tough continuous durable flexible coating for metals, concrete and many other materials.
Bonds permanently to any clean surface, damp or dry, and is applied without the aid of a primer.
Easy to apply, can be sprayed (air or airless), brushed, rolled or dip coated.
Versatile: can be used for many different applications
PACKAGING AND YIELD:
Available in 5 gallon (18.9 L) pails and 55 gallon (208.2 L) drums
SHELF LIFE:
One year in unopened container. Do not expose to freezing.
Color: brownish black in color when fully cured.
LIMITATIONS:
Minimum material, surface and ambient temperature must be 50°F and not to go below for 24 hrs. Dew or rain on product while uncured may cause surface to blush or brown and may impair its cure. Maximum application temperature is 150°F for dry heat and 110°F (43.3°C) for moist heat Do not allow material to freeze, cannot be used if material freezes..

CAUTION – FOR INDUSTRIAL USE ONLY:
Freshly mixed cement, mortar, grout, or concrete may cause minor skin irritation. Avoid direct contact where possible and wash exposed skin areas promptly with water. Consult MSDS for additional safety information.
Downloads

For more
information please
call IPA Systems, Inc.
at 800.523.3834 or
215.425.6607
or email us at:
info@ipasystems.com