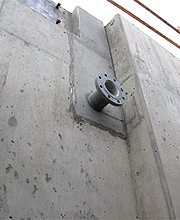 Enviro-Form Release
---
Economical, biodegradable form release
DESCRIPTION: Enviro-Form Release is an economical, biodegradable, V.O.C compliant concrete form release.
USES: Enviro-Form Release works to ensure a clean release on plywood, aluminum, steel, fiberglass and other concrete forming materials. Enviro-Form Release acts as an adhesion barrier for the concrete while minimizing surface dusting. Applied correctly, Enviro-Form Release will not stain concrete or interfere with the adhesion of coatings.
ADVANTAGES:
Made in America
Economical and easy to use
Zero VOCs
Biodegradable
Minimizes dusting
Water cleanup
PACKAGING AND YIELD:
Packaging: Available in 5 gallon (18.93 L) and 55 gallon (208.18 L) containers. Shelf life of 12 months in properly stored sealed containers.
Estimated Coverage:
Hard/dense/smooth forms (plastic, fiberglass, steel, HDO, aluminum)
1000 – 1500 sq. ft./gal. (24.6 - 36.9 sq m/L)
Medium density overlaid plywood
1000 – 1250 sq. ft./gal. (24.6 - 30.7 sq m/L)
Dimensional or rough lumber, striated plywood
500 – 1000 sq. ft./gal. (12.3 - 24.6 sq m/L)
Apply 2 coats @ 500 sq ft /gal (12.3 sq m/L) on new forms,
then 1000 sq ft /gal (24.6 sq m / L) on subsequent treatments

Note: Texture and surface absorption of forming material will influence final coverage rates.
LIMITATIONS:

FOR PROFESSIONAL USE ONLY
Forms and equipment must be clean and dry prior to use. Excessive rain after application prior to concrete placement may require re-application. When properly treated forms should have a uniform thin film, with a slight waxy feel. After use, a white residue may be visible on forms. This is normal for water based form release agents and should not be confused with concrete build up.
CAUTION – FOR INDUSTRIAL USE ONLY:
Use with adequate ventilation, Wear protective clothing, gloves and eye protection (Goggles, Safety Glasses and/or Face Shield) Do not take internally: In case of ingestion, seek medical help immediately. May cause skin irritation upon contact, especially prolonged or repeated. If skin contact occurs, wash immediately with soap and water and seek medical help as needed. If eye contact occurs, flush immediately with clean water and seek medical help as needed. Dispose of waste material in accordance with federal, state and local requirements. Keep out of the reach of children For more information: Refer to MSDS prior to using this product.
Downloads

For more
information please
call IPA Systems, Inc.
at 800.523.3834 or
215.425.6607
or email us at:
info@ipasystems.com