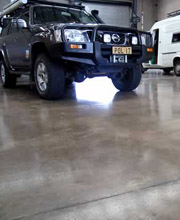 DURICURE Sealer
---
Cure and Seal Emulsion for Concrete
DESCRIPTION: DURICURE SEALER is a water emulsion of Styrene Acrylate copolymers. This product provides a cure and seal for freshly placed concrete, while assuring total resistance to yellowing from ultraviolet exposure. It is ideal for concrete where VOC requirements or safety concerns make solvent based systems inappropriate.
USES: DURICURE SEALER provides a totally clear membrane for new or old concrete. It will make clean up at the end of the job much easier. Can be utilized in interior or exterior applications.
ADVANTAGES:
Made in America
VOC Compliant, Complies with ASTM C-309, Type 1 or ID, Class A&B
Dries clear
Built in freeze/thaw protection
Economical and easy to apply
PACKAGING AND YIELD:
Packaging: Available in 5 gallon (18.93 L) and 55 gallon (208.18 L) containers. Shelf life of 12 months in properly stored sealed containers.
Estimated Coverage:
Curing and Sealing New Concrete: 200 – 300 sq. ft./gal. (4.9- 7.4 sq m/L)
Sealing or Dustproofing Old Concrete: 300 – 400 sq. ft./gal. (7.4 - 9.8 sq m/L)

PRECAUTIONS:
Duricure Sealer and the substrate must be at least 42°F before application. This product is not designed for immersion in strong chemicals or prolonged exposure to gas. If applied too thick, the film will not dry properly and will leave a white film. Do not subject the coating to rain or water until it dries hard. All clear sealers produce an uneven gloss on existing concrete due to uneven porosity of the surface. Never apply over puddles. Although compatible with many carpets, tile and floor covering adhesives, a test section is recommended for questionable adhesives. This material is freeze/thaw stable. However if exposed to freezing, stir well before use. Read Material Safety Data before using.
CAUTION – FOR INDUSTRIAL USE ONLY:
In accordance with federal regulations, do not apply unless Material Safety Data Sheet (MSDS) is available on-site. Consult MSDS before using this product. Product is highly alkaline. If contact with eyes or skin occurs, flush immediately with copious amounts of water and contact a physician. If swallowed, induce vomiting and CONTACT A PHYSICIAN IMMEDIATELY..
Downloads

For more
information please
call IPA Systems, Inc.
at 800.523.3834 or
215.425.6607
or email us at:
info@ipasystems.com