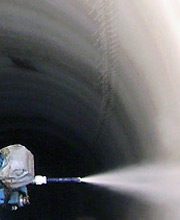 Spray applying Drycon SM/SMF
DRYCON SM/SMF
---
Sprayable Waterproof Mortar
DESCRIPTION: DRYCON SM and DRYCON SMF are prepackaged, Portland cement mortars supplied in kit form for application by conventional spray equipment. DRYCON SM/SMF technology is based on the DRYCON coating system which has been used successfully since the early 1970's, yet includes current technology to produce the highest quality mortar for spray application in thick sections. DRYCON SM/SMF may also be applied using manual methods.
USES: DRYCON SM/SMF is designed for negative side waterproofing and is also suitable for positive side applications. DRYCON SMF has the physical characteristics of DRYCON SM but includes specially designed nylon fibers. DRYCON SMF is a repair mortar for applications requiring additional tensile strength or where shrinkage crack control is warranted. May be applied to horizontal, vertical or overhead surfaces. Repairs to water and wastewater treatment facilities, manholes, tunnels, utility vaults, elevator pits, marine structures, basement walls, dams, bridges, silos, commercial,
industrial and parking structures.
ADVANTAGES:
Made in America
No VOC's-inorganic water based system
Traffic bearing within 24 hours
Resistant to de-icing chemicals and freeze thaw resistant
Exceptional workability
SM/SMF provides outstanding protection to reinforcing steel
Includes lightweight aggregate, well suited for overhead or vertical repairs
PACKAGING AND YIELD:
Drycon SM/SMF is packaged in 50 lb. (22.7 kg) pails,Approximately 0.47 cubic feet per 50 pound kit (22.7 Kg)
SHELF LIFE: 1 year in unopened pails. Store dry at 40°-95°F (4°-35°C). Condition material to 65°-75°F before using.
LIMITATIONS:
Minimum material, surface and ambient temperature must be 40°F (4.4°C) and rising
Minimum application thickness is ½ inch (12.7mm)
Do not apply to a frozen surface or allow material to freeze
Surfaces may be damp, but free of surface water.
CAUTION – FOR INDUSTRIAL USE ONLY:
Freshly mixed cement, mortar, grout, or concrete may cause minor skin irritation. Avoid direct contact where possible and wash exposed skin areas promptly with water. Consult MSDS for additional safety information.
Downloads


Drycon SM/SMF Liquid
Material Safety Data Sheet


Drycon SM/SMF Powder
Material Safety Data Sheet
For more
information please
call IPA Systems, Inc.
at 800.523.3834 or
215.425.6607
or email us at:
info@ipasystems.com